Wildfire Update
Whitecourt Forest Area Wildfire Hazard Update - August 18, 2017
By Shannon Stambaugh, Aug 18, 2017 11:59:05 AM

WILDFIRE HAZARD UPDATE
The wildfire hazard is high for the Whitecourt Forest Area. The wind is expected to be strong this weekend drying out the forest. Make sure you are taking the necessary steps to prevent a wildfire.
SMOKE IN THE AIR
Smoke continues to drift into the area from wildfires burning in British Columbia. To see the latest smoke forecast, go to www.firesmoke.ca
If you have health concerns related to smoke inhalation from a wildfire, check the Alberta Health Services website or call 811 for 24 hour health advice.
LOCAL WILDFIRE UPDATE 10:00 a.m., August 18, 2017
There are no wildfires in the Whitecourt Forest Area. Since the start of the 2017 wildfire season, there have been 25 wildfires that have burned 11.40 hectares in the Forest Area.
PROVINCIAL WILDFIRE UPDATE 10:00 a.m., August 18, 2017
There are currently 28 wildfires in the Forest Protection Area of Alberta; 6 wildfires are classified as out of control, 6 being held, 11 are under control and 5 have been turned over to the responsible parties.
Since March 1, 2017, Alberta has recorded 1,036 wildfires in the Forest Protection Area that have burned a total of 15,963.73 hectares. For information visit the provincial wildfire status map.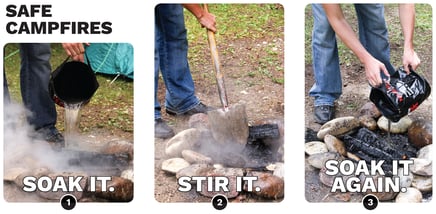 HANDY TIPS WHEN HAVING A CAMPFIRE
Before you leave - check albertafirebans.ca for information about fire restrictions or bans.

Select your site - use a designated stove, ring or fire pit if possible. Use sites clear of dry grass, bushes, leave branches and other flammable vegetation.

Prepare your campfire - have the right tools including a shovel, axe and enough water to fully extinguish your campfire.

Extinguish your campfire - soak it, stir it, soak it again. Using your bare hand, feel for heat coming from the ashes, it should be cool to the touch.
Leaving a campfire unattended will result in a fine of $287 under the Forest Prairie and Protection Act. If an individual does not properly extinguish a fire and it starts a wildfire they can be charged up to $100,000 or face imprisonment for up to two years. Read more here.
TIPS TO PREVENT A WILDFIRE WHILE USING AN OFF-HIGHWAY VEHICLE
Remove debris - keep your machine debris free by checking it before, during and after a ride.

Strategic parking - park your OHV on bare mineral soil if possible, do not park it in areas of dead, dry grass.

Exit and check - when possible, drive out on the path you drove in on. This will help you check for fires that may have started.
Read more here.
To report a wildfire call 310-FIRE (3473).
Unless conditions change, your next wildfire update will be on August 24, 2017.
Shannon Stambaugh
Wildfire Information Officer
phone: 780.706.5336
email: This email address is being protected from spambots. You need JavaScript enabled to view it.
Stay current on Alberta's wildfire situation by downloading the Alberta Wildfire mobile app for Android or Apple products. Check out the Alberta Wildfire Blog: blog.wildfire.alberta.ca. Y ou can also join the conversation on Facebook, Twitter or Instagram.
wildfire.alberta.ca albertafirebans.ca emergencyalert.alberta.ca